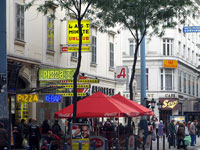 The 6th District (prime area) is marked on the north by Mariahilferstrasse, a major shopping avenue that runs from the Innere Stadt to Penzing. The major shops are found along the Innere (Inner) Mariahilferstrasse, the segment on the border between Mariahilf and Neubau (the 7th district). Prominent international brands have their flagship stores on Mariahilferstrasse, inviting countless visitors and a great deal of congestion. On the four weekends leading up to Christmas, the street is designated a pedestrian zone to help it handle literally millions of shoppers.
Going south, away from Mariahilferstrasse, the 6th District grows less congested and more residential. The eastern part of the district, close to Lastenstrasse, is an artsy, bohemian neighborhood influenced by the students of the Academy of Fine Arts, located here. With its elegant apartments and studios, eastern Mariahilf has become a fashionable Viennese neighborhood. It is also one of the city's top nightlife areas, offering a large assortment of trendy bars and restaurants.
The western part of Mariahilf is highly residential, though you can still find a lot of small restaurants and shops. It is not as fashionable as the eastern neighborhood but still fairly appealing. The western border of Mariahilf, however, is marked by the Guartel ring road. Notorious for being a red-light district, the Guartel can hardly be considered a good residential area.
Linke Wienzeile
Linke Wienzeile (Left Vienna Row), a street running through the southern part of Mariahilf, holds a couple of architectural attractions; namely, the Wienzeilenhaus and the Majolikahaus buildings designed in Jugendstil style by Otto Wagner. And the splendid Baroque Church of Mariahilf is only a few blocks away from Linke Wienzeile.
The sprawling Naschmarkt (a fresh foods market) can be found on Linke Wienzeile, just across the border in Wieden (the 4th district). The Naschmarkt is the biggest and most popular market in Vienna, and it offers a wide range of domestic produce as well as imported items. It is an especially good place to shop for fruit and vegetables at inexpensive prices. On Saturdays, the Flohmarkt (or flea market) takes place by the Naschmarkt area.
---