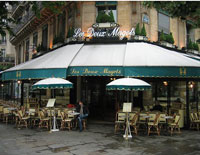 Another famous Left Bank district, the 6th arrondissement, which includes the St. Germain area, used to be favored by bohemians and intellectuals. The Ecole des Beaux-Arts and the Theatre Odeon are to be found here. Famous artists and writers of various nationalities, from George Sand to Pablo Picasso to Ernest Hemingway, have resided here. Oscar Wilde died here. Still associated with the arts, 6e is known for its art galleries, antique shops, historic architecture, and publishers. With upscale boutiques, and restaurants now along its narrow streets as well, it has become a fashionable district. It has the old-time appeal of the Marais and is multi-cultural like the neighboring 5e, but more sophisticated.
The district's name is derived from St. Germain des Pres, the oldest church in Paris, where you can go to hear classical music concerts. Here too is the beautiful Jardin du Luxembourg, where the French Senate is located, better known for its al fresco cafés. It was in the Luxembourg that Hemingway was said to have caught pigeons for food when he was destitute and Isadora Duncan danced at dawn.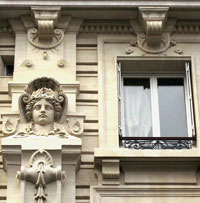 Unlike the 4th, there isn't much of a nightlife in the 6th arrondissement, but you can spend many pleasant hours catching up with friends at one of the cafés at the Luxembourg or along the boulevard St. Germain. The 6th has some of the oldest and most famous coffee shops in Paris—famous for being frequented by the foremost intellectuals and artists of the past. And there's always something interesting to discover along its streets, from plaques identifying some famous artist or philosopher's former address to interesting little museums. You can pick up ingredients for everyday meals or dinner parties at the Buci market. Au Bon Marché, the world's first department store which opened in 1852, is also here to serve your needs.
Apartments here tend to be expensive, due to the 6th arrondissement's central location, its views of the river, its parks and its proximity to the popular 7th arrondissement. Haussmann-style architecture reigns in the district, and some quirkier apartments can be found in the St Germain area. Although principally residential and commercial, many buildings now house businesses.
The southern parts towards Boulevard Montparnasse offer similarly-priced apartments, and the ambiance is slightly less touristy. But the area is always very busy.
Traffic and parking are far from easy but public transport is excellent
---