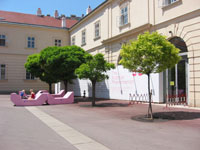 The 4th District, Wieden (prime area) is a highly fashionable residential district, as prestigious as the 1st District, and very expensive. The district's elegant streets are lined with grand town houses, luxury boutiques, and classy bars and restaurants. The 4th District has long been associated with high culture and artistry. Both Mozart and Schubert once made their home in this district.
Along Linke Wienzeile (Left Vienna Row) within Wieden, you will find the Naschmarkt, the biggest and most popular marketplace in Vienna. It is an excellent place to shop for fruit and vegetables at good prices, and you can find a wide range of domestic produce as well as imported items (at varying prices). On Saturdays, a flea market takes place by the Naschmarkt area.
Other 4th district attractions include the Art Deco-style Funkhaus (officially called the Radiokulturhaus), the Theresianum, a former castle and now a prestigious secondary school, and Karlsplatz, a square on the border with the 1st district where a wonderfully beautiful Baroque church (Karlskirche) is located. The Vienna Museum and the Vienna Technical University are also located at Karlsplatz.
Freihausviertel, a small city quarter tucked away near Karlsplatz, has in recent years become one of Vienna's most fashionable neighborhoods. It is known for its plenitude of colorful galleries, shops, restaurants and cafes that are commonly set within charming squares lined with greenery.
---