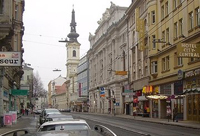 Leopoldstadt, the 2nd District, was originally the Jewish quarter of Vienna. Today, it is not a chic neighbourhood, but has a convenient location which has led to the spread of small cheap and backpackers' hotels which give it a youthful vibe. The district is separated from the city centre of Vienna by the Danube Canal (Donau Kanal). The canal area offers cheaper rents and hotels, while remaining conveniently close to the centre of Vienna.
The Danube Canal has become the centre of a lively party scene, full of bars and nightclubs including Flex, said to be one of the best electronic clubs in Europe. During the summer, the canal area attracts sunbathers to its sandy beaches.
Leopoldstadt also contains a very large public park called the Prater, which is best known for its Wurstelprater amusement area. There you can see the Riesenrad, or giant Ferris wheel, which was made famous by its appearance in the film The Third Man. The Prater is a wonderful park, a sort of "lung" for the whole of Vienna.
A private international school called the Danube International School (DIS) is located along Josef-Gall-Gasse in Leopoldstadt.
---