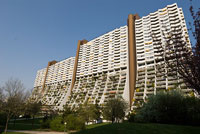 The 23rd District, Liesing, is a large, spread-out district that still retains some of its former rural atmosphere, with rustic old villages, vineyards, gardens, and forest areas. However, the district has also gained modern residential developments as well as industrial parks where prominent international companies, such as Novartis and Philips, are headquartered.
Liesing doesn't have any significant attractions to interest visitors, except for some good Heurigen establishments (traditional Austrian taverns). Among its notable landmarks is Alt-Erlaa Wohnpark, a massive residential complex, one of the largest found in Vienna. A typical example of 1960s-style town planning in Vienna, Alt-erlaa presents a set of towering modernist blocks that house over 3,000 flats, many equipped with balconies.
Western Liesing, comprising the villages of Mauer, Rodaun, and Kalksburg, is an upscale residential area and the centre of wine production in Liesing. The rest of the 23d district falls more into the mid-range as property prices go.
---