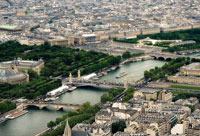 The geographical centre of Paris and a major tourist district. Prime attractions such as the Musée Louvre, Jardin des Tuileries, Les Halles, Place du Vendôme, and the Palais Royal are here. The Place de la Concorde, a majestic city square characterized by its distinctive Egyptian obelisk, is located here at the western end of the Rue de Rivoli thoroughfare. The famous Pont de la Concorde bridge crosses the Seine at the south end of the Place.
The rue Saint-Honoré is a popular shopping area that extends from the rue du Faubourg Saint-Honoré, known as one of most fashionable streets in the world and address to the biggest names in French couture.
Although it is one of the smaller arrondissements, the 1e offers a lot of breathing space and is less claustrophobic than the other central Paris districts. It is certainly one of the most attractive and easily accessible, with several metro stations and bus routes to the area.
Larger apartments are occasionally to be found in areas such as rue de Rivoli and around Sainte Honoré, but more commonly to be found here are smaller studios and two or three room apartments, which are always in high demand due to the central location and the excellent transport.
More modest properties can be found around the Les Halles district, which has idea public transport.  It is best avoided in the late evening, especially in the red light district of rue St Denis.
Rarely do apartments become available on the Ile de la Cité, but they can be marvelous.
---