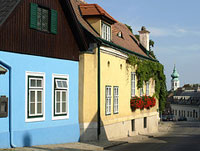 The 19th District, Döbling, (prime area) is very large, very green, and quite enchanting. There are many luxury villas here, as well as lovely old villages surrounded by large vineyards and green spaces extending up to the forested hills of the Wienerwald (Vienna Woods).

Housing in Döbling is luxurious and expensive, possibly the most expensive in Vienna. It is in this district, after all, where the official residency of the President of Austria can be found. Cottageviertel, the priciest residential area in Vienna, is partially located in this district.
Döbling has a good number of traditional Austrian wine taverns, called Heurigen, particularly in the neighborhoods of Grinzing and Neustift am Walde. There are a lot of beautiful parks in the district, such as Setagaya Park, which is designed along the lines of a Japanese garden. An excellent public swimming pool, the Krapfenwaldlbad, is located on a hill overlooking the city, and offers quite a spectacular view.
The American International School of Vienna is located at Salmannsdorfer Straße 47 in Döbling.
---