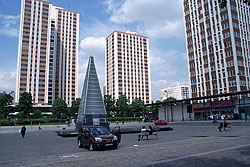 In the 19th arrondissement two canals meet at the level of the Parc de la Villette: the Canal Saint-Denis and the Canal de l'Ourcq. In the Parc de la Villette are found Cité des Sciences et de l'Industrie, science and industry exhibition area, and the Cité de la Musique, which has the famed music school Conservatoire de Paris. Another park in this area is the Parc des Buttes Chaumont, located on a hill. Among the features of this romantic park is a waterfall. This arrondissement borders the 10th,  but is quieter and more scenic.
The development of La Villette and the ornate park of Buttes Chaumont have renewed interest in the district.
La Villette has undergone a facelift and now offers a canalside recreation park, with promenades, parks, cinemas and cafés.
The Buttes Chaumont is a family favourite with its lakes, waterfalls and large lawns, though it is surrounded by shabby industrial areas.
Many young families are moving to the calmer areas, which is bringing up the tone of the area. Apartments are found in all shapes and sizes.  However the district's main arteries are a mix of old buildings in disrepair, unattractive modern blocks and lively commercial areas. This is, really, one of the scruffier and less inviting districts of Paris.
---