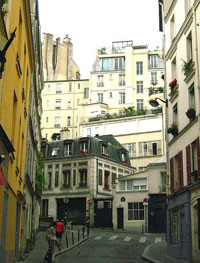 The 18th arrondissement's best-known and most noticeable feature is Montmartre, on the highest hill in Paris, with the striking pure white Basilique du Sacré-Coeur at its heart. This area was the haven of bohemians at the turn of the 19th century. It still has an artsy character, with its many street artists. It is also the place where hip Parisians to go to shop.
The eastern end of 18e is a residential district populated by immigrants. A market of African goods can be found here.
Just at the bottom of the hill is the Pigalle neighborhood, which has spread its influence to the areas of the 18th that border it.
Unfortunately, some might find the steep, narrow cobble-stoned streets that give Montmartre its charm make the area difficult to navigate. Getting around the 18th by Metro can also be tricky.
---