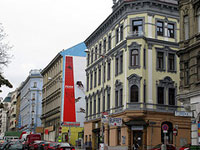 There is not much to say about the 17th District, Hernals; there simply isn't anything very notable about the 17th district.

Hernals is green, however: The houses at its centre were built around the turn of the 19th century, but many original farmer houses remain further out, often with added gardens and villas. About 60% of Hernals entire area is green, so that it is is one of the greenest districts in Vienna, with 40% forest. Agriculture plays little role today.
Central Hernals may be worth your consideration in looking for an apartment, though; this area around the Elterleinplatz became highly developed in the '80s and features a shopping centre, apartment buildings, and a few community centres.
---