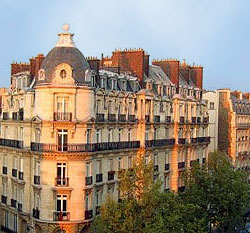 The 17th arrondissement is a diverse right bank district. In the north of 17e, around the place de Clichy is a working-class area and an extension of the Pigalle. In the south, not far from the Arc de Triomphe and the Champs Élysées, is an upscale residential area centred on Avenue des Ternes. Grand townhouses that exude affluence are found here. Some of the architecture dates back to the mid-19th century. In the east end of this arrondissement there is more affordable housing.
There are no illustrious sights in 17e, yet it is a delightful place to wander through. Street markets and local craft shops are found all around the place. Here and there quiet little parks and squares pop up. Especially charming is the Parc Monceau immortalized in Monet's paintings, with its 19th century features and little replicas of samples of world architecture. Nearby is the intimate Musee Jacquemart-Andre with its excellent art collection.
Two renowned Parisian restaurants, Guy Savoy and Michel Rostang, can be found in this arrondissement as well. Also in 17e is the Palais des Congrès of Paris exhibition area where the skyscraper hotel Concorde Lafayette is located.
Predominantly the architecture in this area is Haussmannian, although later 1930-50s designs are not uncommon.
The 17th offers a fabulous range of apartments in an area of Paris that is calm, high-end and geographically well positioned, making it a favourite for families and professional couples. Its popularity has been increasing, so prices have also been increasing but this area does offer a very comfortable way of life.
The more expensive areas are to the south, in and around the Arc de Triomphe.
---