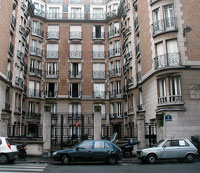 The 15th shares the Montparnasse district with the 6th and 14th arrondissements, with the Tour Montparnasse right where it borders the 14th. The largest arrondissement, 15e stretches all the way from Tour Montparnasse to the Seine. The lovely Parc André Citroen, named after the car manufacturer whose first factory once stood here, is located by the Seine.
Mainly a residential district, 15e has the largest population among the arrondissements. Nevertheless it is a quiet area, with upscale housing in the sections close to the 7th arrondissement and the Seine. More affordable housing can be found in the more remote reaches.
This is not a tourist area, though it has a few attractions, like France's diminutive Statue of Liberty and the Porte de Versailles exhibition centre. And close to the high-rise district of the Front de Seine (or Beaugrenelle) is the Eiffel Tower.
---