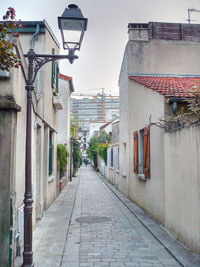 The 13th arrondissement, a Left Bank district, is mainly a business and residential area. Gare d'Austerlitz is located at its centre. Occupying thirteen square blocks is Paris's main Chinatown, found in the southeast of this arrondissement along with some high-rise residential buildings. This overcrowded area is arguably the largest European Chinatown.
While not a very popular neighborhood, the 13th has its attractions. Oriental restaurants abound in Chinatown and there are shops where you can get Chinese and Asian ingredients. The village of La Butte-aux-Cailles is a delightful place for strolling. Place d'Italie houses the largest movie screen in Europe. The Bibliothèque François Mitterrand is on the Quai de la Gare. There is also the business district of Paris Rive Gauche.
The 13th arrondissement offers many choices of apartment types, from traditional to the modern. Rents are affordable throughout, and is it well-located for access to the east and southern suburbs, as well as for central Paris. Quaint pockets exist, such as the La Buttes aux Cailles area, which is like a little hamlet in the city.
There is more traditional architecture and a community feel in the north. The southeast has modern blocks, which offer excellent views of the city, making up for their lack of charm.
---