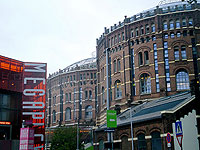 Located just south of Landstrasse, the 11th District, or Simmering is a large district marked by its highly urban and industrialized northern area, while its southern part is more residential, even village-like. Simmering is primarily a working-class district dominated by Socialist-type apartment blocks.

There is one residential complex in Simmering of special note: Gasometer City, a block of four immense gas tanks that have been converted into apartment buildings and commercial spaces. Gasometer City residents tend to think of the block as a self-contained village set apart from the rest of Simmering. This is not far from the truth; the Gasometers offer pretty much all the services and facilities one would need: a shopping mall, concert hall, multiplex cinema, art galleries, all kinds of shops, and a student dormitory.
The famous
Zentralfriedhof
, or Central Cemetery of Vienna, is located in Simmering. Tourists flock here to admire the tombs of such famous composers as Beethoven, Brahms, Strauss, and Schubert. Even Mozart gets a memorial, although he is not actually buried in this cemetery.
---