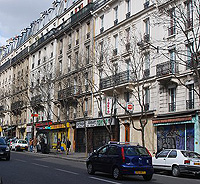 The 11th arrondissement, located on the right bank of the River Seine, is mainly a residential district. In fact, has the highest population density of all urban districts not only in Paris but among all Europe cities. Over the years this is where many of the working class, especially the immigrants, settled. The northern part of this area is lately becoming quite hip, especially among the artistic crowd.
There are many different kinds of bars and restaurants here, from trendy small bars which draw both the suburban Parisians and the expats to traditionally Parisian bars and restaurants, where the urban crowd gather. The population is predominantly a friendly 30-something, becoming more family-oriented to the east. There is a real community spirit in many areas of the 11th and it is interspersed with pleasant little squares and parks.
Most of the area has a middle-class character. There is some interesting shopping here at simple boutiques, open-air markets, the Viaduc des Arts crafts market, and the Bercy shopping centre.
From the Boulevard Richard Lenoir, a lovely tree-lined street with huge markets and children's play areas, there is access to two historic landmarks: Place de la République and the Place de la Bastille of French Revolution fame. The Opera Bastille is found in the Place de la Bastille.
The area's more prestigious apartments are in the west.  Prices around the Bastille area are slightly highest, because it is a popular district. The district's architecture mixes modern, late Haussmann influence and every thing in-between.  To the east, the apartments are also late Haussmann, but slightly more affordable.
---