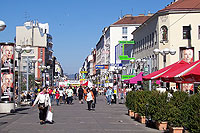 The 10th District, Favoriten is one the cheapest districts of Vienna for real estate. But it has long been considered one of the least attractive residential areas in the city. It is the most populous district in Vienna; it has a large working-class, mostly immigrant population, and its streets have a reputation for being unsafe. Residences tend to be either hundred-year-old houses or drab community housing blocks. However, some areas within Favoriten, mostly around Favoritenstrasse, have been experiencing urban development, and these revitalized areas are worth some consideration. They even feature contemporary luxury apartments, some of them surprisingly expensive.
Favoriten also offers the advantage of being adjacent to Liesing, the 23d district, where many major offices and corporations are located. And since Favoritenstrasse is on the U1 (U-Bahn Line 1), it is a simple matter to travel from Favoriten to almost any part of Vienna.
One of the nicer aspects to Favoriten is the presence of nature conservation zones, such as the Laaer Wald forest and the Erholungsgebiet Wienerberg recreational nature area.
---