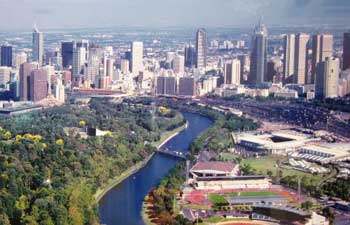 The city of Melbourne in Australia bested the world's key cities as the most liveable, according to the latest survey of the Economist Intelligence Unit (EIU), which highlights that safety and conflict are main factors in determining the best and worst living conditions that a city can offer.
The liveability of a city, according to the EIU report, quantifies the challenges that might be presented to an individual and his family in any given location.
Determining factors of liveability include political and social stability, access to quality health care, education and standard of infrastructure, including public transport, diversity and standard of cultural events and natural environment and the crime rates.
Based on these factors ranked second is the city of Vienna in Austria, followed by Vancouver, Canada, slipping a notch from that of last year's ranking. The rest of the top ten most liveable cities cited by the EIU include the Canadian cities of Toronto and Calgary Canada; the Australian cities of Adelaide and Sydney; the city of Helsinki; Perth, Australia; and New Zealand's Auckland.
The EIU explains that a city in the midst of an armed conflict will most likely affect the infrastructure and the entire economy that could directly "undermine the availability of goods, services, and recreational activities."
Among the 140 countries surveyed, the Syrian city of Damascus is ranked 130 because of the persisting armed conflict in its midst.
The city of Dhaka in Bangladesh is ranked low because of health and infrastructure concerns.
Although four Australian cities landed the top 10, Brisbane authorities are not so happy and even questioning the survey because it has been ranked No. 20 and below Melbourne, Adelaide, Sydney and Perth, related reports by ibtimes.com and the Australian cited.
Economist Intelligence Unit survey editor Mr. Jon Copestake did not directly respond to the question of Brisbane authorities, but said "Aussie cities top the list due to its natural advantages such as low population density and continuous improvement with high-profile infrastructure investments, which results to low crime rates, functioning infrastructure and easy access to recreational facilities."
Mr. Copestake cited from the report that "the top three cities had murder rates of 2.7, 1.1 and 2.5 per 100,000 population in 2010-11 compared with the average of 4.8 among cities in the United States."