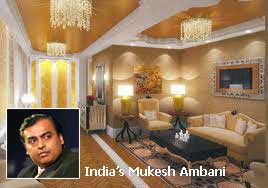 Curious to know what the ultra rich had spent on amidst the financial crises, the Spectrem Group said in its latest study that the affluent ones from all over the globe have spent their millions on what matters the most: memories and time spent with loved ones.
The likes of billionaires Mr. Warren Buffet of the United States, India's Mr. Mukesh Ambani, and even Mexico's Mr. Carlos Slim and his family took more luxury vacations and renovated their homes more in the last six months.
The Illinois-based research Spectrem Group cited this trend in its latest report revealing further that the moneyed few restrained their spending on clothing, cars and pieces of jewellery.
With no less than a $25,000 budget, the ultra rich have set aside a bigger allocation for vacations and travel across the world.
Instead of selling their mansions and luxury homes at a loss at this crucial crunch time, they made a point to renovate and improve their home amenities more so as to get a better value for their properties when the world economy improves.
Mr. George Walper, Spectrem Group president told CNBC's Robert Frank that the data is indicative that even the wealthy were frugal enough at this time and there are only a few wastrels.
Unlike the so-called "bling" years from 2005 to 2007 when some of the wealthy spent more on expensive jewellery and other trivial things of luxury. Nowadays, art collections, according to the Spectrem study, were one of the few that the ultra rich spent on.
Important allocations of the billionaires were made recently for their chosen charitable causes and political leanings.
As an election year particularly in the United States, political contributions no less than $30,000 were readily given by the wealthy in the past few months to their chosen political party and advocacy.
"The data tells us that there are very few people in this group who are really flamboyant in how they spend their money," Mr. Walper tells CNBC. "Of course, just because a couple spends $30,000 for luxury tents and chef-prepared meals in the Okavango Delta doesn't mean they are not extravagant. It's just that they're "experience extravagant," rather than "material extravagant."
Source: CNBC, Spectrem Group Research