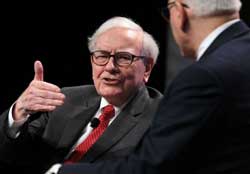 American billionaire Warren Buffet had affirmed his earlier confidence on the current mode of recovery of the country's housing markets in an interview with Bloomberg television.
Mr. Buffet tells Bloomberg's Betty Liu in an interview at Allen & Co. media conference in Sun Valley, Idaho that the U.S. property market is starting to recover and the improvement seen this year is even better than what has been recorded in the previous year.
He notes, however, that the recovery is not all the same in different states and there are those ahead; nonetheless, this has encouraged them at Berkshire Hathaway to move noticeably within the U.S. property industry.
Earlier reports from Global Property Guide and Global Edge hinted of Berkshire's recent moves in the property sector with its bidding for the mortgage and loan business of Residential Capital LLC.
Mr Buffet lauds Berkshire's affiliate, Wells Fargo, in its participation in providing the housing market a boost while navigating through the crises with a 33.9% share of all U.S. home loans in the first quarter as against the 10.6% recorded by JP Morgan, according to trade publication Inside Mortgage Finance.
"Wells did the best job of the big players in the mortgage market and therefore they've garnered a share as the other fellows have fallen by the wayside," says Mr. Buffett, 81, whose firm according to Bloomberg holds more than 7% of the common stock in Wells Fargo.
Reports have indicated that Well Fargo completed $131-billion worth of originations and received $208 billion in mortgage applications in the second quarter. By the end of June, Wells had $102 billion in unclosed loans in the pipeline.
Sources: Bloomberg, Inside Mortgage Finance