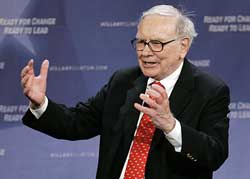 Warren Buffet's latest investment choice included the U.S. property markets with his company, Berkshire Hathaway Inc. bidding for the mortgage and loan business of Residential Capital LLC.
Berkshire, according to reports, had filed a $3.85 billion proposal for the mortgage and loan segment of Residential Capital.
This affirms Mr. Buffet's statement to CNBC earlier this year that he thinks residential property in the U.S. is a good buy, if the administrative costs will not be too prohibitive. It also supports his previous investment in an American brick-making firm.
Global Edge says in a report that this approach taken by Mr. Buffet is simply an indirect way of being in a good position once an upturn in the U.S. housing market occurs soon.
Although yet to be at its best, the U.S. housing market had shown some positive signs of life. RealtyTrac Inc. said in a report that in the past 20 months, foreclosures had gone down on a yearly basis. RealtyTrac said U.S. home prices kicked up 1.8% in March—largest monthly increase in two decades.
A similar study of U.S. home prices undertaken by auction house Zillow.com showed that home the price index went up in May, which is the third consecutive month in May. Zillow.com's home price index states in April, it rose 0.5% from April.
Moreover, it recorded the lowest annual average decline in home prices since October 2007. In May 2011, the average annual decline noted by Zillow.com is at 0.9%.
Rental prices in the U.S. also increased by 1.8% during the April to May period. The rental spikes were recorded by Zillow.com in the states of Phoenix (an annual increase of 9%) and Miami's Fort Lauderdale ( a jump of 5.2% year-on-year and 2.2% on a monthly basis.