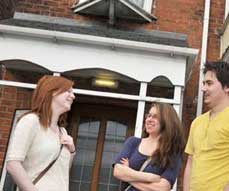 The Article Four Direction is a ruling passed by government which effectively requires special planning permission to be granted on the conversion of a single family home into a rental property of three or more unrelated tenants.
Article Four Direction came into effect in March 2012, although it is up to each local council's digression on whether or not they want to adopt the ruling or not.
In cities like Nottingham, Leicester and Newcastle family homes were rapidly being converted to student let properties thereby allowing landlords to reap far higher rental returns. The Councils of these cities have adopted the ruling in order to protect the number of single family homes. The impact could see a drop in supply of student accommodation and while demand continues to grow it will lead to increases in rental income and low vacancy rates.
According to UCAS figures the number of acceptances at Nottingham Trent (26456 students) and University of Nottingham (34377 students) continues to grow year on year.
Shad Ali, a consultant for East Midlands Property Owners said "Nottingham University has a strong reputation for Medical and Law students which traditionally often come from more affluent backgrounds and the increase in tuition fees will not deter them".
Stride Treglown, a nationwide architectural and planning firm, that has been in the student sector for 15 years noted that the trend has shifted to purpose built student accommodation.
Nottingham's take
Nottingham councils planning policy has opened the conversion of centrally located commercial properties.
Attractive period buildings like the Nottingham Building Society head office are being converted to stylish student buy-to-let property in Nottingham. Set in the heart of the retail sector and only 300 metres from the university campus it certainly will be appealing to students, thereby having a strong rental demand.
Some students have commented that proximity to the university is not as important as being close to friends. Others like to rent houses in the suburbs because they have a greater sense of freedom when compared with living in a fully managed and somewhat controlled environment of the purpose built student accommodation.     
Infrastructure changes like the new tram line in Nottingham will connect the city centre student accommodation with Nottingham University which actually lies outside of Nottingham Central thereby enhancing the appeal. En-suite rooms are already renting between £99 and £ 110 per week with the average studios receiving income of £ 7,216.50 per annum.
The feedback from student Landlords in Nottingham has been that the impact of the article 4 direction could be negligible in that it is challenging for the local council to practically implement.
It is however, raising the standards of accommodation and giving the students more options. Responsive landlords that keep their properties in good condition will continue to attract tenants; there seems to be a place for both priavte let student houses and purpose built student accommodation in this solid market.