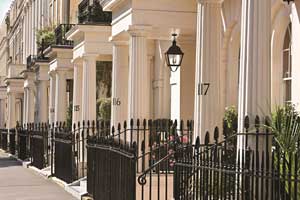 After the economic downturn of 2008, the London Property market appears to be prosperous despite the UKs economic difficulties.
Good levels of growth have been recorded in all types of property across the capital with London house prices now being above their 2007 peak.
This growth is not exclusively linked to the Prime London market but with all London property.
There is more good news for London property as the number of affordable housing across the capital is set to increase significantly over the next few years, further extending the opportunities of ownership of London property to more people.
Generally speaking, the UK has been hit hard with the current economic climate with levels of employment and economic growth grinding to a halt.
UK house prices
House prices have not been unaffected by this downturn with the average UK home now worth £164,430, nearly £20,00 lower than the October 2007 peak of £186,043.
House prices in London, however, are an exception to these trends with the average house price now at £306,919.
Healthy levels of employment and the funding for lending scheme has kept demand for sales property in London high, consequently leading to the above average house prices.
Experiences unique to London have helped to retain healthy property prices across the capital.
After hosting the Olympic Games of 2012, London has seen the creation of new property-buying opportunities and new hot spots as a direct result from cultural and employment shifts created by the London Olympic Games.  
Transport developments within London, particularly the development of the cross rail, due to be operating by 2017 has generated more investment and growth which has further helped to retain above average property prices in London.
Prime London properties
At the top end of the London property market, prime London property has received an unprecedented two and a half years of steady growth.  
This continuous growth is partly due to the economic climate which has resulted in the world's wealthiest individuals transferring their assets from stocks and shares into real estate.
Since then the demand for prime London property has been strong with interest coming from wealthy Londoners and foreign investors.
For properties worth 5 million or more which has now become known as the 'super prime' market, value growth is now 3.5% above peak. This growth is not only limited to Central London as the  outer prime markets of South West London such as Richmond, Putney, and Wandsworth have started to catch up with the centre.
This growth is not only limited to residential property, but commercial property is also experiencing changes and growth across the capital.
Significant redevelopments are happening in the 'midtown' area between the West End and City as many run down commercial properties are being transformed into desirable office space.
Affordable London property
Growth in the London property market is not only limited to Prime London property as the number of affordable housing in London has doubled in less than a year.
Boosting the capitals construction industry and creating thousands of jobs, London's Mayor Boris Johnson plans to deliver up to 100,000 affordable homes for Londoners over two Mayoral terms.
This massive project is already well under way with 10,092 homes already being constructed. To further support middle income earners onto the London property ladder, a minimum of £750 million has been secured to help boost new build construction.