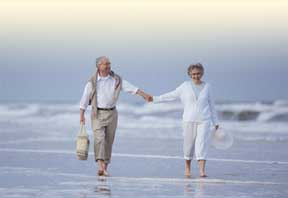 In last month's annual Budget, George Osborne revealed a £3.3 billion hit on middle-class pensioners which will see many eventually losing the higher personal allowance.
Announced on the 6 April 2012, those aged between 65 and 74 will see the first £10,500 of their income remain tax free while £10,660 will be free for those aged 75 and over.
However, from the 6th April 2013, personal allowance will be frozen for current pensioners and not available for anyone retiring after that date.
More controversial news comes in the form of a proposed 'Granny Tax Mark II', which could see around 100,000 people lose up to £897 a year - a serious blow to older Brits.
Targeting the savings credit benefit, it seems that the government will be looking to slash payments and scrap them altogether by 2016 seeing single pensioner hand-outs cut from £20.52 a week to £18.54 with new pensioners 'clobbered' even harder when their benefit ceases, according to research by the House of Commons library.
With Inland Revenue figures highlighting that over 4 million people will be worse off by £83 a year on average in 2013-14 and 360,000 individuals aged 65 set to lose £285 a year on average, this new 'granny tax' is sure to encourage even more pensioners to move in their Third Age according to experts.
"This so-called 'granny bashing' has generated a lot of controversy over the last month and it is likely that the bad feeling amongst UK pensioners could well spark British retirees to flock overseas," Danny Silver, an expert in French real estate and managing director of The Villages Group, observes.
According to DeVere Group, a leading international advice firm, the scrapping of the age-related personal allowance will mean that there will be fewer incentives for people to hold pensions in the UK, Mr. Silver adds.
"With benefits axed and British pensioners seeking to protect their retirement funds from government invasions, more Brits will be looking to retire to countries in which they will be taxed less with the forever popular destination of France offering a great escape," he says.
Mr. Silver explains that in France, you have your pension paid under EU law, which also includes the benefit of a world class medical service.
He further says that in terms of the cost of living, food expenses and other related commodities are approximately 20% lower than the UK while restaurants and eating out is 30% lower.
France, according to the property expert, is second only to Japan for life expectancy so moving to France in your later years to avoid the doom and gloom of the UK makes absolute sense.
For those in their third age contemplating a move overseas, the Languedoc-Roussillon region in France will make for a wonderful place to relocate.
Chosen for its three C's - climate, coast and countryside as well as being one of the best places in the world to go canal boating.
Languedoc is one of the most visited parts of south west France and as a result of Languedoc's popularity, The Villages Group has decided to develop an active living resort 'village' for those over 50 to enjoy at the UNESCO World Heritage Site of Canal du Midi, one of Europe's longest and widest canal systems.