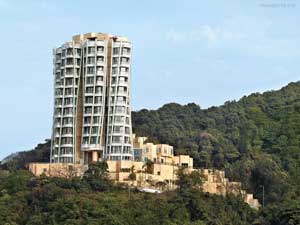 The hard times could not dissuade the creativity of architects, who continue to build an alluring mix of prestige, luxury and comfort in residential buildings that have drawn wealthy buyers to their doors.
The Global Property Guide found the world's leading emerging markets China and Brazil are still bound with presenting the world's prestigious building residences this year and in the medium term.
OPUS, HONG KONG
The 12-Floor Opus ended the year of 2012 with the most expensive apartment sold on its 9th floor amounting to $58.7 million just nine days before the strict property buying measures for foreigners were in place.
The first Asian project by Frank Gehry, the property sits ostensibly at 53 Stubbs Road, the Victoria Peak amidst a rare lush landscape of greenery and the blue seascape of Hong Kong's busy harbour.
It boasts of 10 single-floor apartments measuring from 6,000 to 6,900 square feet and a rooftop terrace with three swimming pools.
The onset of stiff property rules for foreign buyers will, however, make it difficult to match the said transaction in 2013. According to Midland Realty sales director William Lau, the broader property market will see some cooling this year.
As much as China's mainland buyers are drawn to Hong Kong, Beijing has its own residential building gem that New York architect Steven Holl completed in 2009.
LINKED HYBRID, BEIJING
The mixed-used residential, commercial and public gardens with 8 interconnected residential towers, is still at the top of urban development in Beijing.
Mr. Holl's prime property complex still commands a stiff price amidst the property cooling measures because of its innate green building amenities including 655 geothermal wells that cool the buildings during summer and provide heat in the winter.
In spite the attractive amenities, which include a cafe, gallery, hotel, cinema, kindergarten, swimming pool and gym, the occupancy rates of the residential properties, it is yet to be fully occupied.
Not to be left behind in terms of luxurious residential development is Brazil, which has Vitra rising in Sao Paolo.
VITRA, SAO PAOLO
With the ambition of becoming the "New York" of the 21st century, architect Daniel Libeskind had designed Vitra with 14 apartments measuring 6,080 square-foot units and a spacious duplex penthouse at 12,300 square foot. The residential high rise is located at the high-end Itaim Bibi district.

Libeskind said the jagged design was inspired by Rio de Janeiro's many appeals. With no opening date yet, the Vitra has 18 floors and is at 500 Rua Horacio Lofer.
Brazil remains a buyers' market, though prices have risen by 30% in the last two years, real estate lawyer Alessandro Jacob tells the NYTimes.com. Mr. Jacob notes that the forthcoming Olympics and World Cup has magnified infrastructure developments and enhanced crime fighting in the capital. With reports from Christine Gaylican