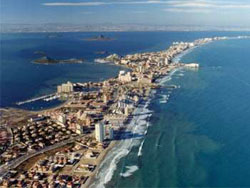 A deal has been signed to continue with the planned theme park in Murcia, Spain that could provide the needed boost for the property market there.
According to reports, an agreement has been signed by the project promoter Proyectos Emblematicos Murcianos (Premursa) to launch the first Paramount Theme Park and Lifestyle Centre in Europe.
Premursa has agreed to pay two-thirds of the land price allocated for the project estimated at €10.3 million.
The newly signed agreement would allow the project to move forward and alleviate the property and economic activity in Murcia, a city located southeast of Spain and along the tourist favourites Alicante and 'Costa Calida' or the Warm Coast together with Torrevieja on the Costa Blanca.
The property scene in Spain has suffered the past 11 months with sales skidding 26.3% to 33,087 in January compared to 2010, according to the state-led statistics office.
According to experts gathered at the MIPIM (Marché International des Professionnels d'Immobilier) in Cannes, France, the significant property price fall could draw more buyers and be an advantage for Spain's real estate developers and sellers.
Source: property-abroad.com