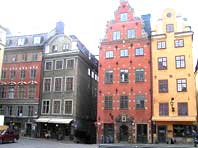 Sweden is facing a tough home lending environment in 2013 as banks try to shun property borrowers to keep their portfolios intact and prepare for stricter banking measures in adherence to the Basel III requirement.
Household debt levels rising 170% this year has alarmed the country's central bank-- the Riksbank.
Central bank Governor Stefan Ingves warned that tighter lending rules is most likely to be imposed next year, extending more pressure on banks and lenders to clean up their acts especially the credit-driven imbalances arising from the property sector.
According to Swedbank AB (SWEDA) CEO Michael Wolf, the Swedish housing market is bound for an adjustment as lenders become more uncomfortable about rising debt levels.
Mr. Wolf told Bloomberg that Sweden's housing market will see a "some sort of adjustment".
Swedbank AB is the country's biggest mortgage lender.
Sweden's central bank led by Governor Ingves happens to chair the Basel Committee on Banking Supervision, thus, domestic banks are bound to "de-risk" in 2013 by cutting off private debt levels and stabilising capital adequacy structures.
Riksbank data showed household debt levels climb 170% of disposable incomes in 2012 compared to the 90% increase noted 16 years ago.
SwedbankAB is taking the cue from Danske Bank A/S (DANSKE) which is now suffering due to its property exposures in Ireland and Denmark  and had to lay off some 3,000 employees.
Source: Bloomberg, Stockholm Stock Exchange