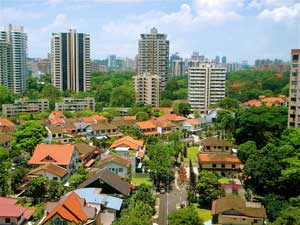 Singapore's suburban properties are now the preferred buys of foreigners as a result of the additional buyer's stamp duty (ABSD) imposed by the government two years ago.
According to real estate agents interviewed by the Singapore Straits Times, foreign buyers led by Chinese and Indonesian nationals, have returned to the real estate market in the last six months, but this time their penchant focuses on mass market residential condominiums in suburban locations.
Gone are the days that foreign buyers usually sought high-end properties, an analyst tells Singapore Straits Times, in order to have more room for the 15% levy for their acquisitions.
Data from Singapore's Housing Authority showed that excluding permanent residents, foreign buyers comprised 10.7% of the 4,884 private homes sold during the first quarter of 2013.
This was an improvement of 3.3% compared to the same period in 2012 taken by foreign buyers of the 7,918 units sold.
First-time home buyers
Singapore's first-time home buyers drove the property market into positive territory during the first quarter of 2013 with 2,793 new private homes sold, according to data released by the URA (Urban Redevelopment Authority).
Since property cooling measures were imposed and the global financial crises struck, this is the first time that the URA recorded higher numbers besting the July 2009 record at 2,772 homes sold.