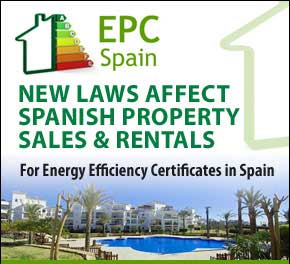 This is an important reminder for anyone planning on renting or selling a property in Spain that as of June 1 – a week tomorrow – you must hold an Energy Performance Certificate (EPC).
The certificates are being introduced under a new government initiative to help raise awareness of how energy inefficient buildings can affect the environment, while from a financial point of view it will serve as an indicator on how savings can be made if owners renting and selling a property in Spain adopt minor changes to their properties.
They will cost €300 to acquire from the Spanish government and will remain valid for 10 years, and property owners must be warned that failure to provide the Certificado de Eficiencia, as it's known in Spanish, could result in a penalty between €3,000 and €6,000.
 With the scheme being government-led, only certified and registered assessors have the capabilities to issue such certificates and these companies or individuals are regulated through the scheme itself.
 The certificates will now form part of a property's sale process and it will be standard procedure for notaries to ask for evidence of it, as it will form part of their obligations as a legal person.
For property owners who are not renting or selling a property in Spain, a certificate is something you needn't concern yourselves with yet, as the number one focus at this stage is targeted towards properties which are being offered to buyers and tenants.
Holiday Let-ins are included
However, property owners who are intending to sell or rent – including one which is already on the market – it's essential you obtain a certificate otherwise you will not be able to progress with a sale, and any contract for a property that is sold without the certificate may become void.
The same applies for holiday lets: whether it's through an agency or privately, you must obtain a certificate or face mirrored consequences. Legally, an agency will not be able to offer a property for rent without one and could face prosecution should they try.
Properties will be tested for efficiency by a certified assessor, who will give a property a grade score rating from 'A' through to 'G'; 'A' graded properties being highly efficient and 'G' graded properties being the least efficient, and it's these results which will be displayed on an EPC.