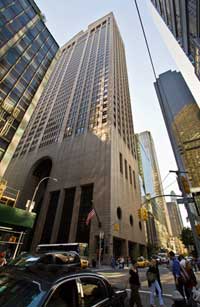 Sony Corp. (NYSE:SNE) has yet to find the right gadget that would propel it to the top of the consumer electronics market these days.
Japan's pioneering electronics maker is now relying on the sale of its key property assets to induce some profits this year.
Company president Kazuo Hirai humbly admits in a briefing on Thursday that the tough competition for consumer electronics with Apple Inc. and
Samsung persists and resulted to an 8th consecutive quarterly loss for Sony last financial year.
This year, however, Mr. Hirai said some profits estimated at US$215 million will be made as they cash in on some assets including commercial properties in New York and in Tokyo.
The sale of its prominent headquarters in New York City for $1.1 billion to the Chetrit Group will be complete by March.
The 37-storey Sony Tower has been considered as one of the landmarks along Madison Avenue at the corner of 55th and 56th Streets in New York City but the sale would deliver an estimated US$685 million in profits for the company.
The Sony sale, according to Sony spokesperson Mr. Shiro Kimbe, had been preceded with previous asset sale comprised of land, buildings and other businesses in Japan.
Reuters reported recently that Sony's 25-storey office building in Tokyo is now being auctioned, citing sources directly involved in the negotiations.
Iwai Cosmo Holdings Inc. analyst Mitsuo Shimizu told Bloomberg that the asset sale initiated by Sony is indeed saving the company as there is yet any clear driver of company growth.