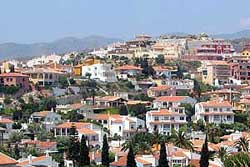 Sellers of Spanish property are being a little more realistic when it comes to asking prices according to Spain's largest English language property portal, Kyero.com's Q1 2012 House Price Index.
Kyero.com predicts that Spanish property prices will 'bottom-out' in 2012, while foreign buyers from stronger Eurozone nations will continue to purchase Spanish property while prices are low.
"Prices across Spain are readjusting with sellers and agents pricing more reasonably. At Taylor Wimpey de España we consider our prices very fair given the prime locations, space and quality of build and indeed our reduced 4% VAT offer in itself highlights that we want to make it even easier for property hunters to buy in Spain," notes Mark Pritchard, Sales and Marketing Director of leading house builder Taylor Wimpey de España.
Mr. Pritchard adds that the strong Eurozone nations as cited in Kyero's report such as Sweden, Norway, Denmark, Belgium and Holland as well as Russia are currently some of Spain's biggest fans showing increased interest in property particularly on the Costa Blanca.
"With this market firmly in mind we also attended the Investor Show in Russia on the 9th and 10th of last month where we received a good level of interest and will be exhibiting at Property Worldwide in Russia from the 13th - 15th of April," he adds.

Pritchard says that "at present, the Swedish economy has been performing better than the UK and with a strong krona and a reduction in Spanish house prices, more Swedes are beginning to realise the possibilities of a life in Spain. With this in mind it is important that we spend time on this lucrative market."
To further support Pritchard's comments, figures published by Fastighetsbyrån, part of the Swedish banking group Swedbank, suggests that Swedish and Norwegian property buyers have pushed hard into the Spanish residential property market with purchases by Swedes up 46% and Norwegians up 61%.
Meanwhile, when it comes to the wider Spanish property market, Mallorca continues to rank highly with limited land and property supply keeping it desirable for property hunters. Kyero.com's Q1 2012 House Price Index reveals that average house prices in Mallorca are 181% above Spain's national average of €253,000, standing at €456,700 as of March 2012.