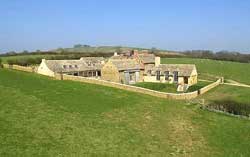 Russian buyers have sought properties outside of London, UK, prompting farmland prices in the countryside to grow by 3.7% in the second quarter of 2012, pushing prices at £6,295 per acre—a new industry record high.
According to property consultancy group Knight Frank, 26% of country home buyers in the UK are comprised of Russians that are after pieces of property worth over 5 million pounds during the first semester 2012.
According to the latest Knight Frank Farmland Index, year-on-year growth rose 2.3%, following a marginal increase in the Q1 2012 and a 2% decline in the last semester of 2011. Prices rose £140 and surpassed a record high of £6,156/acre reached in summer 2011.
The instability of home ownership and the return of President Vladimir Putin in Russia are among the main reasons of Russian buyers opting to buy homes in the U.K., Knight Frank points out.
Knight Frank's Head of Russia Desk, Elena Norton, told Reuters that the "pastoral feel of England is quite appealing compared to the political and economic turmoil back home.
Aylesford managing director Andrew Langton said in ibtimes.com that many Russians, who have central London home, found it necessary to buy property in the country, "which are cheaper by quite some margin."
The preferences of the Russian buyers are properties within gated estates in counties of Surrey, Berkshire, and Oxfordshire, taking advantage of more open space, good schools, and some privacy.