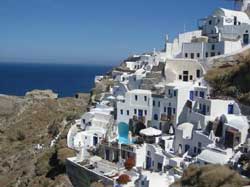 With their country facing economic meltdown, many wealthy Greeks have seen the writing on the wall and are investing heavily in London property.
Overseas buyers have long been attracted to the seemingly bulletproof resilience of prime London property, where prices have risen to an all time high and are now 38% above their low point in March 2009.
In recent years foreign buyers in the capital have been predominantly from Russia, China and India, but now estate agents in central London have reported a rush of Greeks investing in £2 million plus London properties.
Fearing a punitive new tax regime in their home country, Greek nationals have snapped up around £250 million worth of London property in the last two years according to estate agents Knight Frank.