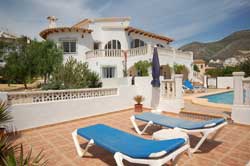 In contrast to last month's INE figures which revealed a 3% decline in the overall number of property transactions made in Spain in 2012, the latest data from the General Council of Notaries has revealed a substantial 28.4% increase in the number of foreign and non-resident buyers of Spanish property in 2012.
Highlights:
28.4% increase in foreign buyers of Spanish property in 2012
38,312 non-residents bought properties in Spain last year, almost on par with 2007 levels
Russians now second largest buying group for the first time, after the British
Falling property prices and efforts made to improve the nation's image abroad by a number of regional tourism and real estate organizations have been attributed to the increase in foreigners buying property in Spain over the last 12 months.
In total 38,312 non-Spanish residents purchased properties in the country in 2012, a figure almost equated to pre-recession levels seen in 2007. However the number of properties actually purchased could well be higher as this data only relates to the number of people buying not the number of properties sold which could indeed be more than one person given price drops of up to 50% seen in some areas.
"The situation on the ground here in Spain over the last 12 months is in many ways different to how it has been portrayed to the rest of the world. Far from Spain being 'in pain', the second homes market in 2012 experienced a real revival with more buyers from more diverse countries seen since 2007," notes Mr. Marc Pritchard, Sales & Marketing Manager of leading Spanish house builder, Taylor Wimpey España, on this newly released data.
In line with the General Council of Notaries' data, Taylor Wimpey España saw an overall 31% increase in sales to foreign buyers in 2012 with Russians up 27%, Brits 24% but also notably Scandinavian buyers up a massive 311%, according to Mr. Pritchard.
The geographical shift in buyers was also noted in the recent data with Russians becoming, for the first time, the second largest buying group in 2012, surpassed only by the British.
Scandinavian and Benelux buyers also retained their dominance outperforming German and Italians and newcomers such as Algerians and Kuwaitis were also welcomed as buyers in the last 12 months.
Looking ahead to 2013, Mr. Pritchard adds that all too often the domestic and holiday home market are lumped together and labelled as 'problematic.'
"This is clearly not the case, the numbers speak for themselves. Sales in Mallorca are already up 100% in February 2013 compared to last year, while buyers in the Costa del Sol for the same period have increased by an impressive 183%," he explains. "I remain confident in the Spanish second homes market in 2013."
With prices remaining competitive, new frontline projects such as Taylor Wimpey's La Vila Paradis development on the Costa Blanca and the proposed new residency law expected to come into place shortly.