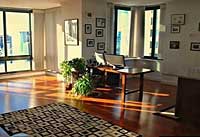 The newest ball player that seems to walk the similar phenomenal stardom of Michael Jordan and other NBA luminaries has begun to taste the amenities of stardom by moving into his first apartment in Trump Towers in White Plains, New York.
Reports confirmed that the New York Knicks point guard, 23-year-old, Jeremy Lin, who recently amazed the sports kingdom with his brilliant moves in the hard court averaging 9 assists and 27 points leading the team's seven consecutive wins, had been in the neighbourhood quite near the team's practice halls.
Although he will be subletting the place of former teammate David Lee, this is by far better than living at the couch of his brother at the Lower East Side or crashing at a friend's place while he was still a bench warmer.
Teammate and friend Landry Fields even tweeted on over the weekend that he is now selling the couch, where Lin slept at his place.
It has not been long since Lin, of Asian American lineage, a graduate of Harvard University and a leading scorer for the Ivy League's Crimson, has been snubbed during the NBA drafting.
Nonetheless, they would not dare overlook him again as he has shown in his consistent performance giving the NY Knicks a 7-game winning streak these last 11 days.
His sudden blast into stardom could also be credited to the power of the social media networking that fans as far as his parents' hometown in Taiwan and other parts of Asia had chanted the play on words for his last name: ThrilLin, Linsanity, Linsational, and Lincredible.
"This hurricane of 'Linsanity' has swept across not just the fans of the NBA, but also across the nation, and to a significant degree, it has engulfed China and parts of Asia as well," said Marc Ganis, president and founder of SportsCorp, a Chicago-based sports business consulting firm said in an interview on ABC Sports.
Sources: New York Post, ABC News