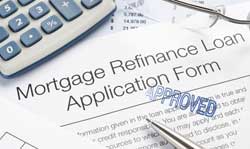 U.S. homeowners seeking mortgage relief have turned to re-financing, according to the latest survey of the Mortgage Bankers Association (MBA).
According to Michael Fratantoni, MBA's vice president of Research and Economics, total application volume declined on an adjusted basis relative to last week, refinance applications volume remains high.
He noted that survey respondents were encouraged to apply to the federal government's mortgage relief program called the expanded Home Affordable Refinance Program (HARP). The HARP contributed to roughly 10 percent of their refinance activity.
The MBA survey recorded an 80 percent increase in refinance applications in the state of Connecticut over the December 2011 period from November. Every state in the US saw an increase in refinance volume.
In terms of home purchase activity, the state of Maine saw an increase of 30.8 percent in applications, which is the largest noted among the 52 states. The survey listed only 12 states registered declines in home purchase activity.
Lower interest rates for 30-year mortgage
Property borrowers and owners seeking re-financing in the U.S. with a 30-year mortgage are given a better chance to own their homes as further reductions in monthly payments were approved by authorities.
Freddie Mac said in a statement that "the average rate for a 30-year fixed loan fell to 3.87 percent, the lowest in records dating to 1971, from 3.98 percent in the week ended on Thursday."
Virginia-based mortgage company McLean, the average rate for 15-years dropped to 3.14 percent from 3.24 percent.
Borrowers with concerns on having higher home debts exceeding the value of their properties will be given special consideration, according to the new plan announced by the Obama administration.
President Barack Obama announced that borrowers having this concern can avail of the program and benefit from the low rates.
Property prices have fallen sharply more than forecast according to the S&P Case Shiller Index, which cited that values of property dropped 3.7 percent in November 2010.
Sources: Reuters. Bloomberg