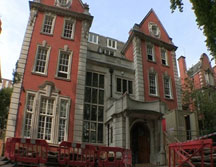 A new trend that rich patrons are now demanding and paying for is a home 'underground'.
Whether this is a way to be over one's fears of getting stuck on the 60th floor of a condo skyscraper, a seclusion during an alien invasion, or the prominently wealthy and famous just wants to be discreet with their affairs, reports said that from London, England to Los Angeles, California, plans to go underneath and expand their domains at no matter the cost.
The so-called basement or subterranean living is highly in demand these days especially in cities where some dwelling restrictions are set and the homeowners still want to expand.
Some of the distinguished names that came up and have recently filed for an underground dwelling space include Republican presidential candidate Mitt Romney. Public records showed that Mr Romney wants an additional 3,600 square feet of underground space to replace his single-storey beach house in La Jolla, California.
In another part of California, the former owner of Ritz-Carlton hotels, Mr. Mohamed Hadid is ready to move in to his newly constructed mansion in Beverly Hills that has a 14,000 square feet basement. Mr. Hadid wants the basement with Mosaic-laiden, Egyptian hand-crafted limestone columns in his Turkish style bath; a ballroom that can accommodate 250 guests; and a movie theatre with 50 seats.
In London, another daughter of British Formula One executive Mr. Bernie Ecclestone, Tamara, is about to finish her tw0-storied underground domain in her $45-million home in Kensington.
Not to be outclassed by younger sister, Petra, who has her own $85-million mansion in Hollywood, Tamara is busy constructing her own subterranean recreation area replete with a billiard room, pool bar, billiard hall, a bowling alley, a nightclub, a 3D movie theatre, an exercise gym and a game room for her boyfriend.
Source: The Wall Street Journal