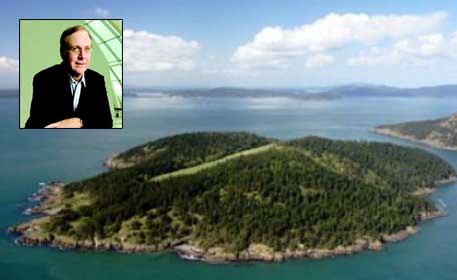 The co-founder of Microsoft Inc, billionaire Paul Allen, is still trying to sell his private island for a reduced sum of $13.5 million, according to a listing on Windermere Real Estate.
The private island owned by Mr. Allen has been on and off the market since 2005. Priced before at $25 million, the so-called 292-acre Allan Island is located near the city of Anacortes, Washington. It is one of the 172 islands that comprise the archipelago of San Juan.
According to Forbes.com, the private island was acquired by Mr. Allen in 1992 to build a vacation home. However, in 1996 he got more enamoured by the Sperry Peninsula he bought on nearby Lopez Island where he built his dream vacation home.
Although, there is yet to be a mansion on the Allen Island, it boasts of a 2,400 foot grass airstrip, jeep trails, and a boat dock. A modest house can also be found on the island, which has been the caretaker's cabin with potable water, septic tank and generator.
Because there is yet to have electricity, additional investments of $3 million need be put up for the island to be connected to the nearby main island city of Anacortes, private island real estate sales veteran Wally Gudgell told Forbes.com.
In spite these additional investments, Mr. Gudgell believes that the costs could be recouped by transforming the private island into an eco-island resort because of its panoramic ocean views and beach spaces along the coastline.
Proceeds from the sale of this private island property will be put to good use with Mr. Allen's many projects at hand including the assembly of a flexible aircraft doubling as a satellite launcher that could be a first in the world.
Reports indicated Mr. Allen has volunteered to shell out $200 million or more for this aircraft research project, which he believes could transform global space aviation.