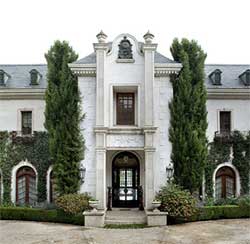 The California property, located in prestigious Holmby Hills Estate of 100 North Carolwood Drive and rented by Michael Jackson and his family for more than five years is set to be put on auction, according to reports.
 Pat Stevens of Fairfax Media Australia cited in a report that the Los Angeles high-end property, rented by the late pop idol Michael Jackson and spent the last days of his life, is now being sold for no less than $23.5 million.
Premiere auction house Julien's Catalogue.com confirmed in its website posting that the said L.A. property is indeed for sale, although it did not mention its former owners in a carefully outlined catalogue costing US$100. Julien's said a live auction for the 100 North Carolwood Drive home is set on 12 December in Beverly Hills.
The 100 North Carolwood Drive mansion sits in a 17, 000 square metre property and was built in 2002. What might have attracted the late MJ to stay longer in this North Carolwood mansion was  the grandiose 3-story French Chateau style estate, which sits on 1.26 acres, has 8 bedrooms, 11 bathrooms,  12 fireplaces, 1 movie theatre, entrance hall with curving staircase, formal living and dining rooms, a den with adjoining library, theatre room, family room, gourmet kitchen with eating area, wine cellar and heated swimming pool and a guesthouse.
MJ leased this sprawling mansion in the Holmby Hills area of Los Angeles for $100,000 a month in 2008 after the Neverland Ranch was foreclosed and transferred to Sycamore Valley Ranch Company LLC.  Other prominent residents at the Holmby Hills, LA were celebrities Elvis Presley, Walt Disney and the Playboy magazine's Hugh Hefner.
A separate auction for the furniture, paintings and even decorative antiques presumably owned by the late Michael Jackson will also be held and can be viewed at the Julien's Auctions gallery in Beverly Hills beginning in December.