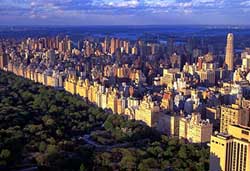 Manhattan apartment prices showed mixed results in the fourth quarter of 2011.
Large, super-luxury units (priced over $ 5 Million) showed the greatest price increases while smaller units and co-ops dropped slightly in prices. The continued tight mortgage market is seen as the culprit that is holding back the sale of lower priced units.

The average apartment price in the city is now $ 1,391,754, a 3% decrease over a year ago. A leading factor in the lower average price was a steep decline in condo sales, which accounted for 40% of all sales compared to 46% in 2010.
The decline in the number of sales is mostly attributed to the lack of condo inventory. Condos are preferred by foreign buyers and investors and typically sell for more than co-ops.

While the average price for three-bedroom and larger co-ops rose 18% over the past year, all other size categories of co-ops saw their average price decline an average of 1%.

The lack of condo inventory caused the average condo price to rise 4% over the past year to $ 1,825,728. With fewer new developments online or planned since the beginning of the recession, buyers have fewer new choices and re-sale units sell quickly when listed.
New developments are usually preferred over older units as most new buildings offer better amenities, more luxurious interior finishes and real estate tax abatements.
In December, New York City's oldest real estate firm, Brown Harris Stevens, was responsible for the record sale of a condominium in Manhattan. The penthouse at 15 Central Park West, the premier "Super-Luxe" building in the city, sold for $88 Million. The purchasers were a family from Russia.
Property Sales Outlook
The Minnick Group is beginning to see many more incoming and outgoing overseas referrals through our exclusive world-wide affliliate, Christie's International Real Estate.
This reinforces the fact that the Super-Luxury market has gone global. New York City is still seen as a safe-haven for affluant buyers and investors from overseas during uncertain economic times.