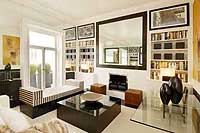 Despite global financial turbulence, London Prime property prices continue to defy gravity thanks to London's popularity with overseas investors and demand continuing to outstrip supply.
London real estate company Knight Frank reports that prime London property prices are now 40% above their March 2009 low and at an all time high of 7% above the pre-credit crunch peak in March 2008.
As for 2012, the consensus is that prices will continue to rise, albeit at a slower rate. Interestingly, the ongoing Eurozone crisis appears to be having little effect.
It is probably even boosting the attraction of London as a safe haven because Europeans are currently the most active buyers in the capital. And if you were a wealthy Greek, Italian or Spanish national, wouldn't you be looking at ways to move your money away from the clutches of your beleaguered government and the Eurozone?
It is beginning to look doubtful that the proposed European Financial Transaction Tax (FTT), which will impose a tax on financial trading, will ever materialise.
The UK vetoed any possibility of it being introduced across the European Union knowing that the City of London would be picking up 70% of the tab and that those revenues would be used to shore up failing Eurozone countries. Doubts have since arisen that it would provide any benefit without the City of London onboard and Germany now seems to be cooling to the idea.
Even if the tax were implemented, it would most likely encourage most of the wholesale financial markets not already in London to move there, which will nudge residential and commercial property prices even higher.