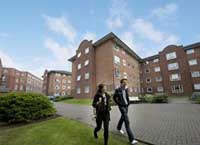 As cited by Chancellor George Osborne, Asian with a majority of Chinese investment is currently pouring into Liverpool.
Mr. Osborne explained that the government is committed to vigorously encouraging the Chinese  to invest in the Liverpool City area, where there are  opportunities to invest in and as the best asset class around, what better than student accommodation? 
"At present, Chinese students make up the largest overseas student group in the UK, contributing around £2 billion to the economy. Indeed, British universities are aiming to bring student numbers up to around 900,000 over the next 15 years; a quarter coming from China's growing middle classes with the hope of generating £11 billion a year in revenue. And, with education being of high importance in Chinese culture and with Britain hosting some of the world's best universities, Chinese investors are starting to make their mark,"  Property Frontiers chief executive Ray Withers says. 

Property Frontiers was able to sell nine student accommodation properties in the area.
Although the Chinese investor interest is currently growing in major regeneration projects in the North West of England such as the Liverpool and Wirral Waters projects, the Liverpool student accommodation sector is attracting particular interest due to its affordable price point and double digit returns. 
To further highlight the value the Chinese place on a British education, a Hong Kong businessman made a £20 million donation to King's College London last week, in the latest wave of contributions by Chinese philanthropists to UK universities.  
"It is clear that the Chinese place great value on our education system. With the government actively promoting the Liverpool region to China it is only a matter of time before the Chinese make the lucrative link between Liverpool and the student accommodation sector," adds Mr. Withers.
Liverpool is home to three top universities and with the constant revamp in the city with planned improvements at St John's shopping centre as well as the recent launch of the £30 million 'Chrysalis Fund' to encourage investment in regeneration projects and commercial property across Merseyside.
The said projects have drawn interest from investors in China and Singapore recently, the Property Frontiers executive said. 

Indeed, Liverpool presents the optimum buy-to-let environment for any investor, reaping significant returns from strong demand. The Knight Frank Student Property report 2012 identifies that average rents for apartments and en-suite rooms in regions such as Liverpool rose by 4% with total returns of around 10.5% last year.