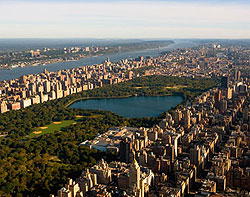 Home prices in New York City rose close to an all-time high in the third quarter of 2011, appreciating in all the five boroughs. The median sale price was $493,100, just 0.4% off the peak level of $495,000 in Q2 2007.
Over Q2 2011, home prices were up 2% in Manhattan ($830,000), up 1% in Brooklyn ($473,000), 3% higher in Staten Island ($365,139), 4% in Queens ($316,690), and 2% up in the Bronx ($230,000).
The number of sales was however in negative territory, down 10% over Q2 2011, and down 4% over the same quarter of last year. "Clearly the economic slump grinds on," Matthew Haines, founder of PropertyShark.com, told Crain's New York in an interview earlier this week. "We are still in difficult economic times and the housing market reflects that." However, "all boroughs are showing a recovery from the bottom of the market," said Mr. Haines.
The ultra-luxury market, defined as homes priced $5 million and above, remained very solid in the city, with the number of sales up from both the preceding quarter and the same quarter of last year. 124 properties sold for prices of $5 million and more, a number that hasn't been matched since Q2 2008.
The upbeat vibe in the luxury sector was confirmed by the $48 million paid for an Upper East Side townhouse, one of New York's largest sales ever. This was not the only property that commanded stratospheric prices, another four properties being sold for prices of $30,000,000 and above.

Although eight of the top 10 largest sales happened on the Upper East Side, it was Tribeca ($2,299,500) that ranked as the City's most expensive neighborhood. Soho followed with a median sale price of $1,535,840, and last quarter's big surprise – Dumbo – continued to rise in the ranks claiming the third spot, with a median sale price of $1,460,000.