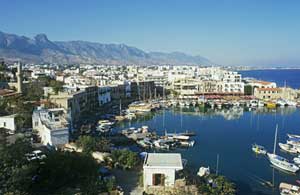 Sales of high-end properties started gaining pace in Cyprus in 2014. Between 2010 and 2013, nearly 41 high-end housing units were sold on average every year. In 2016 the number of units was 179. Last year sales jumped to 260 units with a year-on-year increase of 45%.
Over half of all high-end property transactions were in Limassol, with apartments accounting for 66% of purchases. The rest were villas, according to global accounting firm PwC, whose definition of 'high end' is a property sold for €1.5 million (US$1.84 million) or above.
Limassol was followed by Paphos (36%) and Famagusta (9%). In Paphos, all the high-end properties were villas.
On the bottom of the list of high-end cities are Nicosia and Larnaca with a 3% share.
The majority of transactions in the high-end residential segment across Cyprus is within the €1.5 (US$1.84) -€2 (US$2.46) million price range. But demand for Cyprus properties in excess of €2 (US$2.46) million continued to rise.
Double-digit growth rates in foreign transactions were reported across all districts of Cyprus in 2017. The highest annual growth was recorded in Famagusta (61%), followed by Paphos (38%) and Limassol (33%).