House prices up 2.2% during the year to Q2 2022
The signs of a continuing housing market slowdown in Germany are becoming more evident, as higher mortgage interest rates and rising inflationary pressures have compounded affordability constraints. The average price of apartments rose by 2.2% (inflation-adjusted) during the year to Q2 2022, a sharp slowdown from the previous year's 11.68% growth. It was the lowest annual growth in four years. On a quarterly basis, real house prices actually declined 1.2% in Q2 2022.
Germany's housing market has been growing continuously in the past eight years, with house prices up by more than 70% from Q1 2014. Years of very low interest rates have made it easy for households to move to larger, more expensive homes and for first-time buyers to get into the property ladder.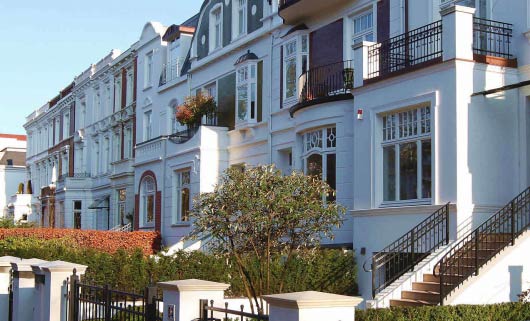 Demand falling, residential construction weakening
Demand is now falling, amidst rising interest rates, coupled with decreasing purchasing power caused by soaring inflation. In fact, according to online real estate portal Immoscout24, demand plunged by a huge 36% in Q2 2022 from a year earlier.
Residential construction activity is also slowing. In the first half of 2022, dwelling permits fell by 2.1% y-o-y to 185,772 units, following annual growth of 3.4% in 2021 and 2.2% in 2020, according to the Federal Statistical Office (Destatis).
Rents, rental yields: moderate yields at 2.9% to 3.7%
Berlin apartment costs are around €4,991per sq. m.
Germany: city centre apartment, buying price, monthly rent (120 sq. m.)
| | | | |
| --- | --- | --- | --- |
| | Buying price | Rate per month | Yield |
| Berlin | € 598,920 | € 1,493 | 2.99% |
| Frankfurt | € 544,680 | € 1,678 | 3.70% |
| Munich | € 942,360 | € 2,243 | 2.86% |
Recent news: Germany's economy grew by 1.4% in Q2 2022 from a year earlier, a slowdown from the 3.6% expansion in Q1, according to Destatis. On a quarterly basis, Europe's biggest economy stalled in Q2 2022, mainly due to declining trade caused by the difficult global economic conditions caused by the continuing Covid-19 crisis, supply chain disruptions, as well as the war in Ukraine.
As a result, Deutsche Bundesbank, Germany's central bank, has recently slashed its growth forecast for 2022 to 1.9%, from its previous projection of 4.2%. In fact, the European Commission takes a more pessimistic stand, projecting the German economy to pose a meager growth of 1.4% this year, following a 2.9% growth in 2021.