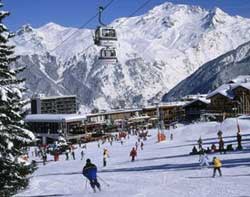 Investors looking for a ski property this season may want to turn their attention to the French region of the Alps according to the recent Alpine Property Market report from Savills.
Over the last decade, the popularity of Alpine properties has risen significantly with ski properties accounting for 9% of holiday home purchases between 2009 and 2011.
Meanwhile, the report highlights that France is still the most visited ski location in the Alps, maintaining resilient apartment and chalet prices thanks to continued rental demand from tourism despite the effects of the economic downturn.
With strong revenue streams generated from rental demand, Alpine ski properties provide an intriguing investment opportunity for potential buyers. In fact, thanks to Alpine resorts having developed a summer tourism infrastructure, property owners can now benefit from both summer and winter returns.
Business Development Manager, Charlie Williams of property developer Terresens says French ski property is a sound choice for any property hunter. Interestingly, the report from Savills identifies that around 62% of the market is driven by buyers seeking lifestyle and investment benefits and France is home to a number of famous ski destinations that afford both.
"Moreover, the report also suggests that there are opportunities for owners with ski property in prime locations to capitalise on high rental demand.