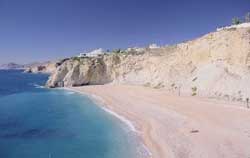 With its mountainous interior, miles of golden sandy beaches and subtropical climate it's no wonder the Costa Blanca remains the most attractive and popular region of Spain for those wishing to purchase a holiday home in the sun.
The latest analysis of enquiries made on the largest English language Spanish property portal, Kyero.com from July to December 2012 reveals that the Costa Blanca continues to be the most attractive province for foreign buyers accounting for 33% of all enquiries generated. Malaga province attracted 15% of foreign buyer enquiries, followed by Murcia with 6% and Tarragona with 5%.
The most popular property types enquired about were apartments (37%) followed by villas (29%) and country houses (17%).
"With Alicante being such a popular choice for overseas buyers, it's hardly surprising that the Costa Blanca is top of the list of foreign buyer enquiries. Here at Taylor Wimpey España we offer a variety of high quality, affordable developments in the province, with our own 57% increase in sales volume throughout 2012 in comparison to 2011, reflecting the Costa Blanca's popularity," notes Marc Pritchard, Sales and Marketing Manager of leading Spanish house builder Taylor Wimpey España .
In terms of property size, the Kyero report reveals that 3-bed properties attracted the most interest (33%) followed closely by 2-bed properties (31%). And at 46% of all enquiries, the most attractive price band was €50,000 to €150,000, followed by those under €50,000 (22%) indicating that buyers are still looking to take advantage of falling prices and bag a bargain.
"The current domestic Spanish property market is reeling from one body blow after another however; our sales volumes prove this has not deterred foreign buyers purchasing second homes. Many view the Costa Blanca as the preferred holiday home destination; with warm seas, sunny skies, plenty to do day and night and more cheap flights per day than you could shake a stick at, it is a serious lifestyle option for fed up Brits looking to escape the cold," Mr. Pritchard adds.