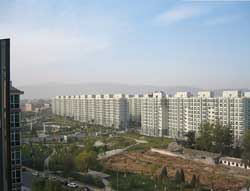 The Chinese government earned an additional 2.63 billion yuan or roughly $413. 17 million after it sold off the remaining land plot allocated for a residential area in Haidian district, Beijing.
In spite the tough existing property regulations, China's top property companies including China Vanke and Poly, scrambled for the last plot for residential homes auctioned on Tuesday.
Beijing Hehuahengrui Real Estate Co Ltd. emerged as the winner of the so-called Wanliu residential land plot in the coveted Haidian district in the capital, where both rental and house prices now average 60,000 yuan per square metre.
Wanliu, situated in western Beijing, which is on the third to fourth ring roads, prominent residential and business areas.
Zhang Dawei, a property market analyst with Centaline Property, told China Daily News this auction would likely impact land prices in other districts in Beijing.
Although China's housing market has not been off the stiff property tax measures, Mr. Zhang said prices have improved in June.
Premier Wen Jiabao reiterated in a speech on Saturday that the government will "resolutely implement real estate market regulations and make it a long-term task to curb speculation in the sector."
He noted that the government will still pursue the construction of affordable housing. Premier Wen said "local authorities should facilitate land approvals and improve the quality of construction by inviting a variety of investors to participate."