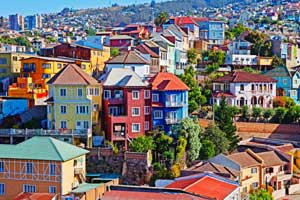 The real estate market in Chile has been one of the best performing sectors in the region over the last several years and even though large gains have already been seen, current market conditions just keep pushing them higher.
Between 2003 and 2009, for example, the average price of agricultural land in many parts of Chile's 7th region increased by right around 9% a year but from 2009 to 2013, has been increasing by over 12% a year.
Prices for apartments and single family homes in many of Santiago's neighborhoods have gone up by around 9% a year over the last decade and rural development land around growing cities like Puente Alto (Santiago), Machali (Rancagua), and Punta de Lobos (Pichilemu) have increased by 30% or more in the last couple of years alone (portalinmobiliario.com).
The boom has been happening all across the board but there are definitely some areas where prices move even faster than the norm.
Most of the demand driving prices these days is from the local market, Chileans with more disposable income, looking for their first apartment or home, or upgrading over the years although there are some areas where foreigners have already begun buying.
In Chile's southern regions, foreigners have been involved in the market for touristic properties for many years. More recently, foreigners have started entering the agricultural property market in the country's central regions and it looks like this trend might be just getting started.
Despite the distance from Europe and North America, the country's solid balance sheet is starting to draw more attention from both individual investors and institutional fund manager from abroad. Chile maintains an extremely low debt and has amassed a $21 billion USD "rainy day" stabilization/reserve fund that will help smooth out any bumps the global economy might see.
With vast mineral reserves, a relatively small population, very low unemployment, and technological and entrepreneurial sectors that are just starting to gain traction, it doesn't look like this property boom here will be ending anytime soon.