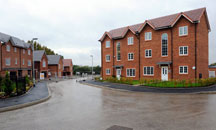 Now could be the perfect time to buy or even relocate to the UK – with house prices still not having recovered from the effects of the recession, property's pretty cheap in many parts of the country, especially the north. And while the jobs market isn't as buoyant as the heady pre-credit crunch days, there's certainly many more opportunities than in other countries in Europe hit by the worst of the economic downturn. It almost goes without saying that buying and relocating to another country is a massive move which will give you plenty to think about. From the obvious (taxes, stamp duty) to the things that could have passed you by for example being preparing for the inevitable bad weather with products like boiler cover,which is something both investors and people relocating must consider if they're from a warmer climate. Here are some of the most important things you need to think about.

Taxes
For those looking to make a move permanent, if you're moving to the UK from inside the EU, there's no tax or duty to pay on your belongings. However, this may not be the case if you're moving from outside the UK, so check with HMRC. You'll also need to find out more about the tax situation relating to employment and property – it may even be worth getting a specialist company to help with this.

Stamp duty
If you're purchasing property in the UK, you need to be aware of stamp duty and the rates. With any home under £125,000 the levy doesn't apply, however, from here it could be 1, 3, 4 or 5% depending on the value of the property you're purchasing.

Local customs
Obviously, these can vary depending on where you're moving – while cities like London are cosmopolitan melting pot of cultures, you may find this isn't the same in smaller towns and villages across the UK. Generally, the UK is a welcoming country, but it pays to find out a little more about the local customs and traditions of the area you're moving to.

Food
Britain's melting pot culture is reflected in its food – you should be able to find a bit of everything, whether you're popping out for a curry or shopping in your local Polish food store.

Weather
If you're moving from a warm or mild climate, you may get something of a shock when winter swings round in the UK – some of the recent winters have been among the harshest on record. You may find that investing in certain types of insurance can help you with dealing with the cost of this – for example, get boiler insurance and you won't have to worry about covering the cost of an expensive repair to the home heating system – the sort that thousands of Britons had to contend with during the last cold snap.

Ultimately, moving is never easy, but taking the time to plan your relocation and knowing who to ask for help is usually the key to a smooth move.