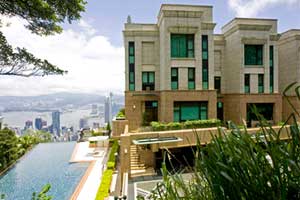 Property cooling measures in Hong Kong and Singapore prove to be effective in reigning in prices of luxury homes in these countries, Jones Lang LaSalle said in a recent report.
Luxury home prices have risen across nine markets in Asia signified by capital values climbing 2.2% on average in the three months to March 31 except in these key affluent cities.
Prices moved up 6.1% year-on-year, according to Jones Lang LaSalle tracking Beijing, Bangkok, Jakarta, Kuala Lumpur, Manila, and Mumbai.
Jakarta recorded the highest spike in luxury property prices with a significant 32.9% percent jump year-on-year and an 8.7% growth during the first three months of 2013.
Solid price growths were also seen in Beijing and Kuala Lumpur rising 2.4% and 6%, respectively.
In Singapore, on the other hand, the luxury segment dipped 0.6% in the first quarter and will continue facing price corrections in the coming months, Jones Lang LaSalle head of research for Singapore and South-east Asia Chua Yang Liang explained in a briefing.
Capital values in Singapore were brought down by the seventh round of property curbs sank in to Singapore's real estate industry in January compounded by the slower economic growth and population numbers.
The dip in Singapore's high-end property prices would continue to as much as 5 % over the rest of this year, noted Ms Jane Murray, the head of Jones Lang LaSalle's Asia Pacific research in the report.